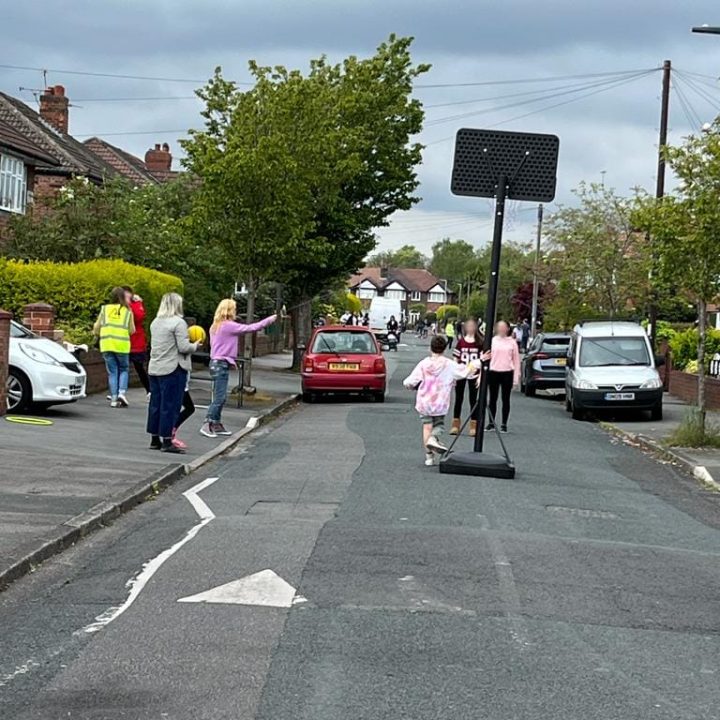 Play Streets are all about the community. They are led by, and for, local people, like you.
There are Play Streets all over the UK but only a handful in Stockport in part, we think, because people have never heard of them.
What is a Play Street?
A Play Street is a road which is closed to through traffic for a few hours on a regular basis to open up the space for play and community. People who live in the street are still able drive in / out but at a walking pace to allow for safety. It is led and organised by local people with the aim of giving children a place to play safely close to their homes and for neighbours to get to chat, catch up and get to know each other.
How will it work?
SLH will help guide you through the process to develop a successful Play Street. We will also work with Stockport council to ensure that the Play Street is fully compliant with all regulations and requirements. We will help you complete any paperwork required and provide the signage required to ensure your road can become a Play Street.
We will provide leaflets and invitations to share with neighbours about the Play Street to make sure everyone knows what is happening and when.
You will also receive a Play Street pack which contains everything you need to get started.
When would the Play Street start?
It takes about 8 weeks to make sure all the paperwork is in order. The best time to start planning a Play Street is today.
How often?
Research shows that regular Play Streets work best eg at least once a month. However it will be entirely up to you and your street to decide what works best for you for example it could be:
Every Friday 4–5 as an after school treat

The first Sunday of every month 10–12

Every blue bin day for one hour
Want more information?
We are basing our Play Streets on the highly successful Playing Out model.
Next Steps
If you think your street would be suitable for a Play Street please drop us an email and we can arrange a meet-up to talk through the details.
Thank you so much for your interest in Play Streets. We look forward to getting more Play Streets up and playing in the Heatons!